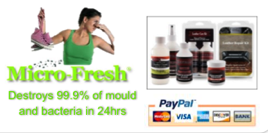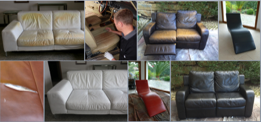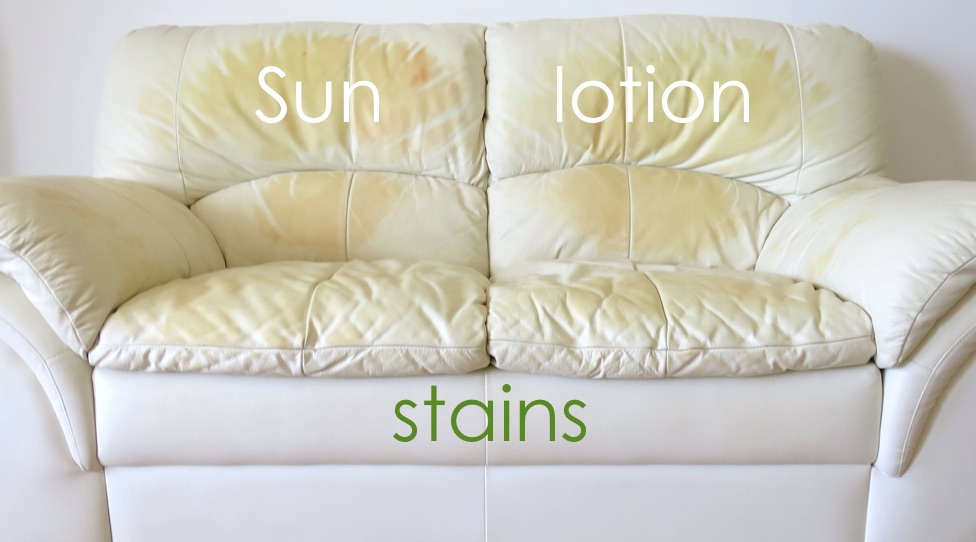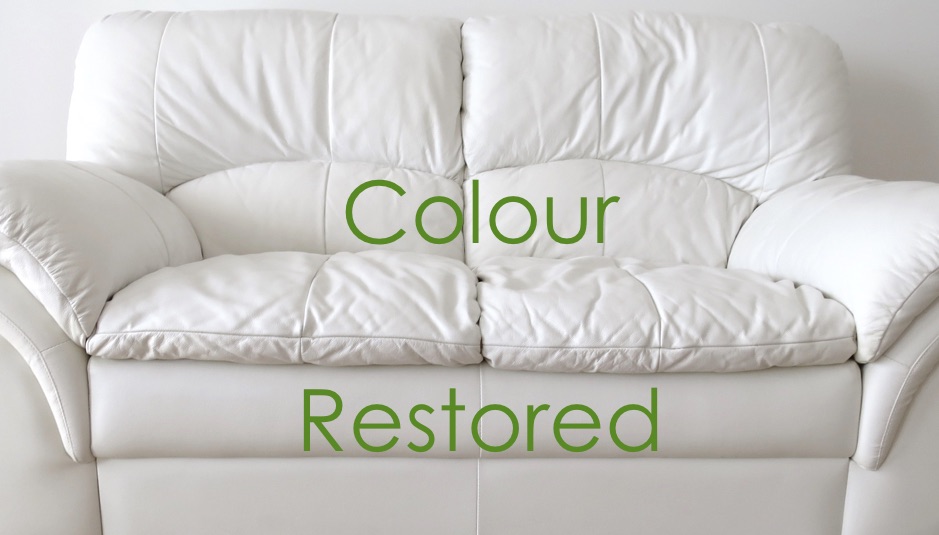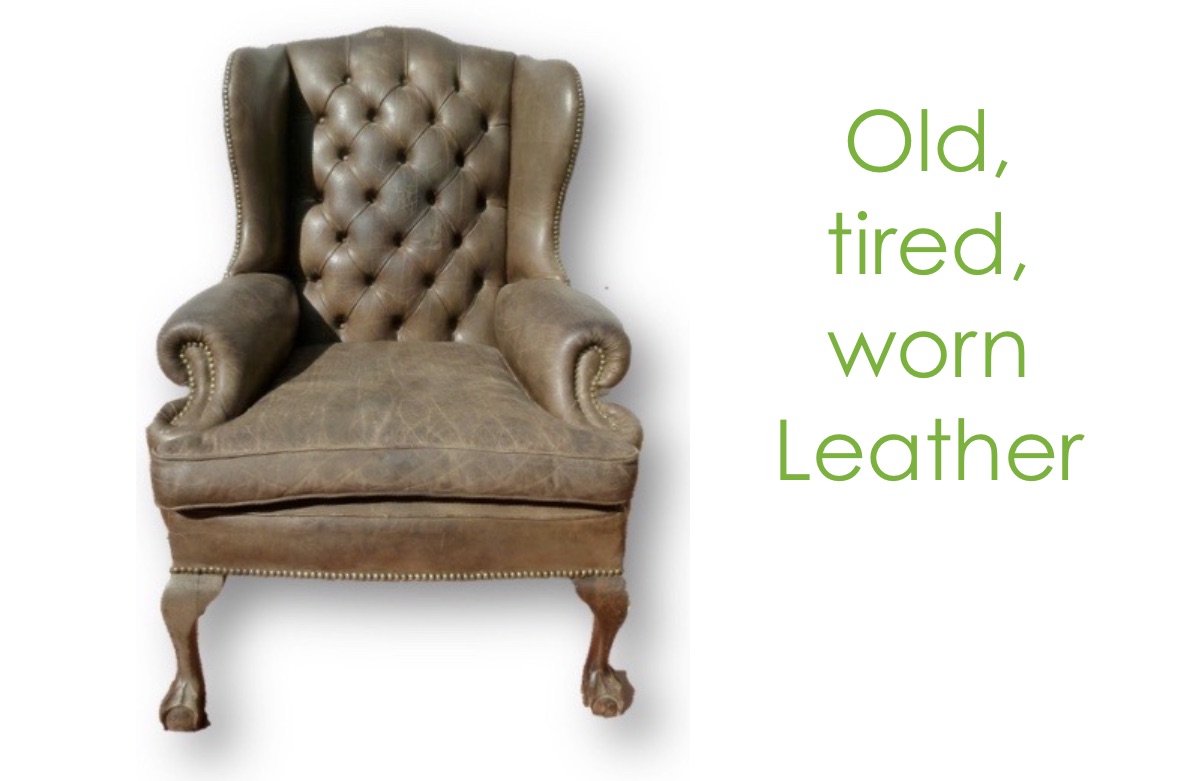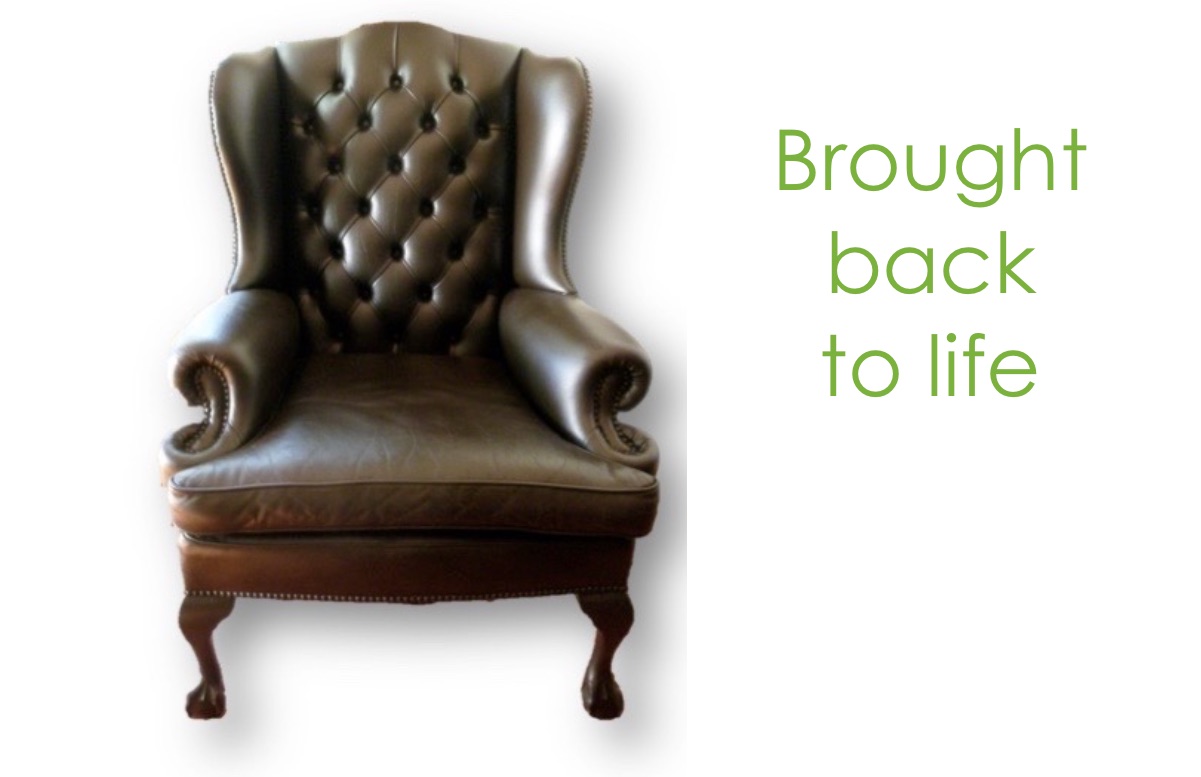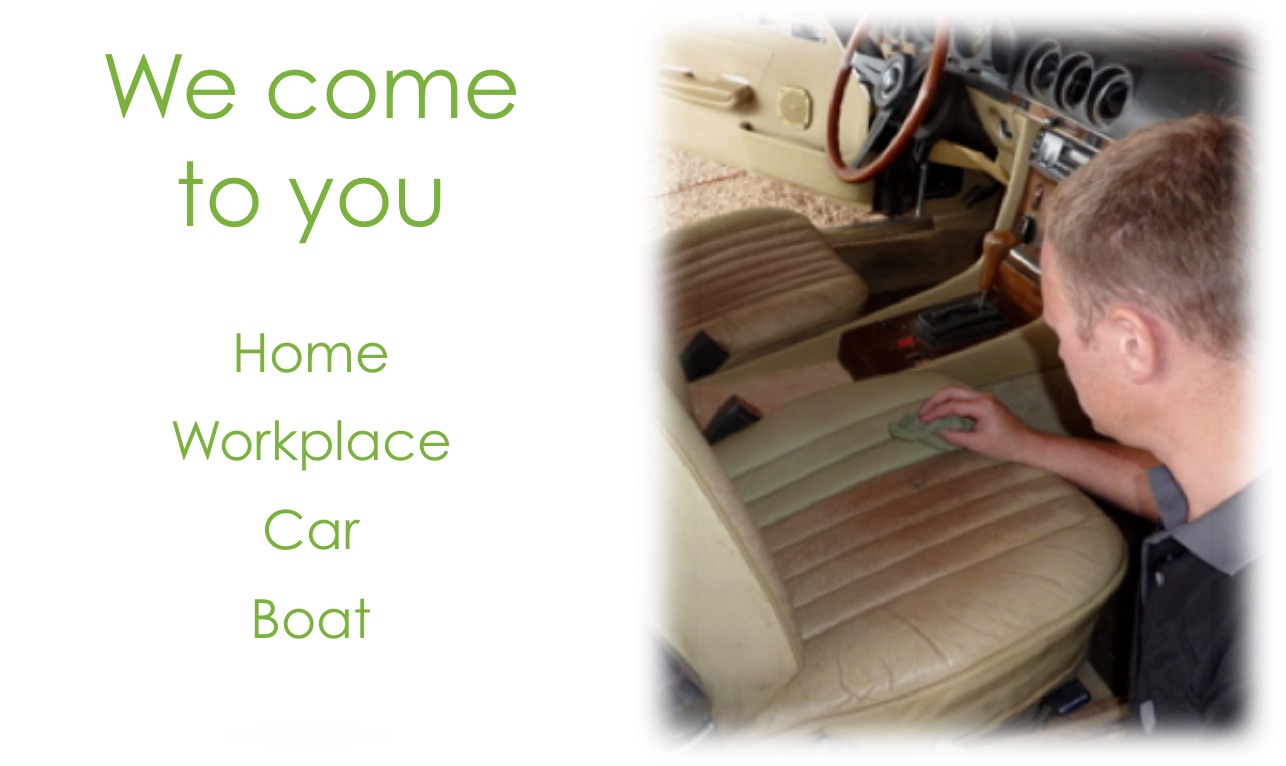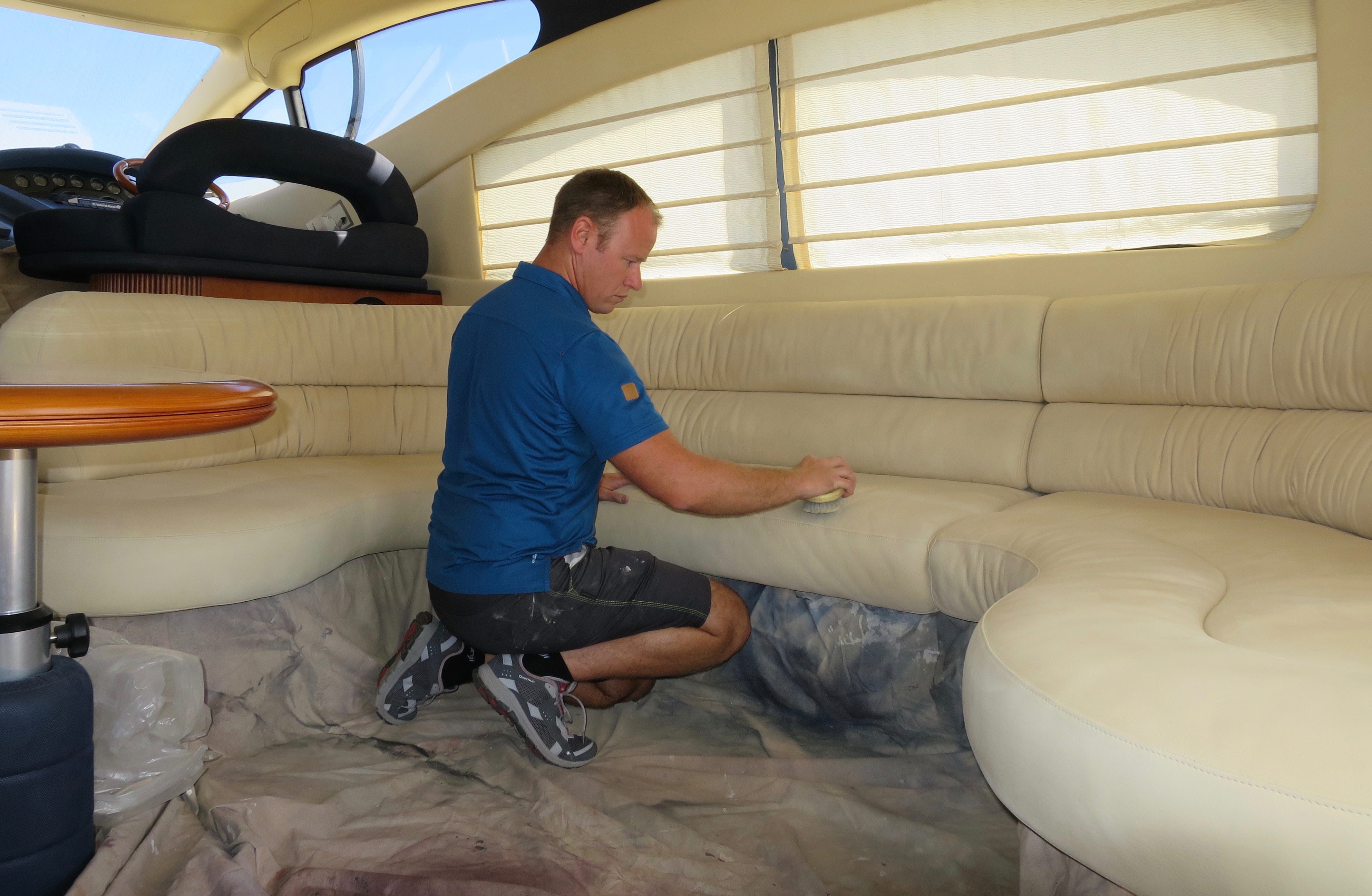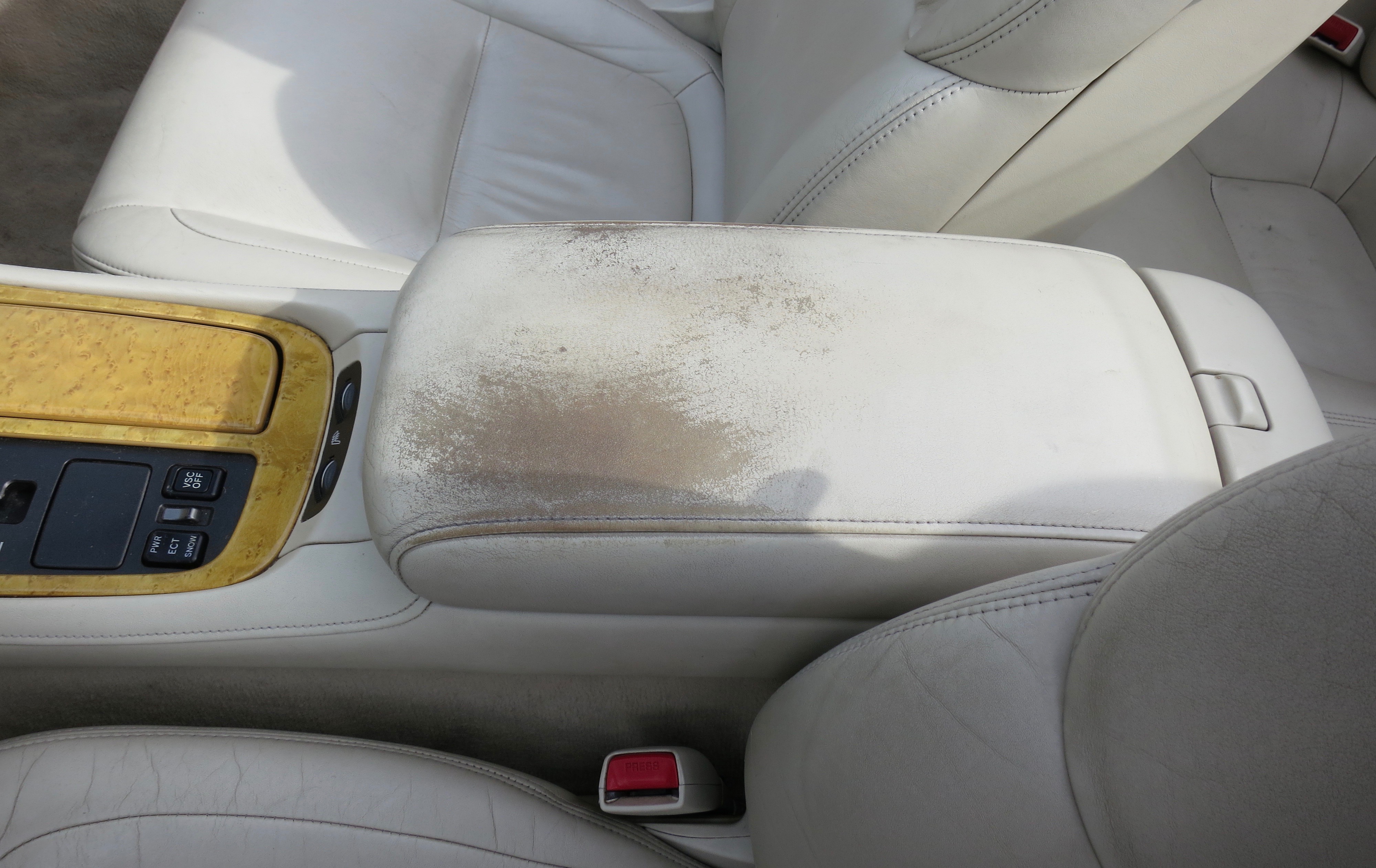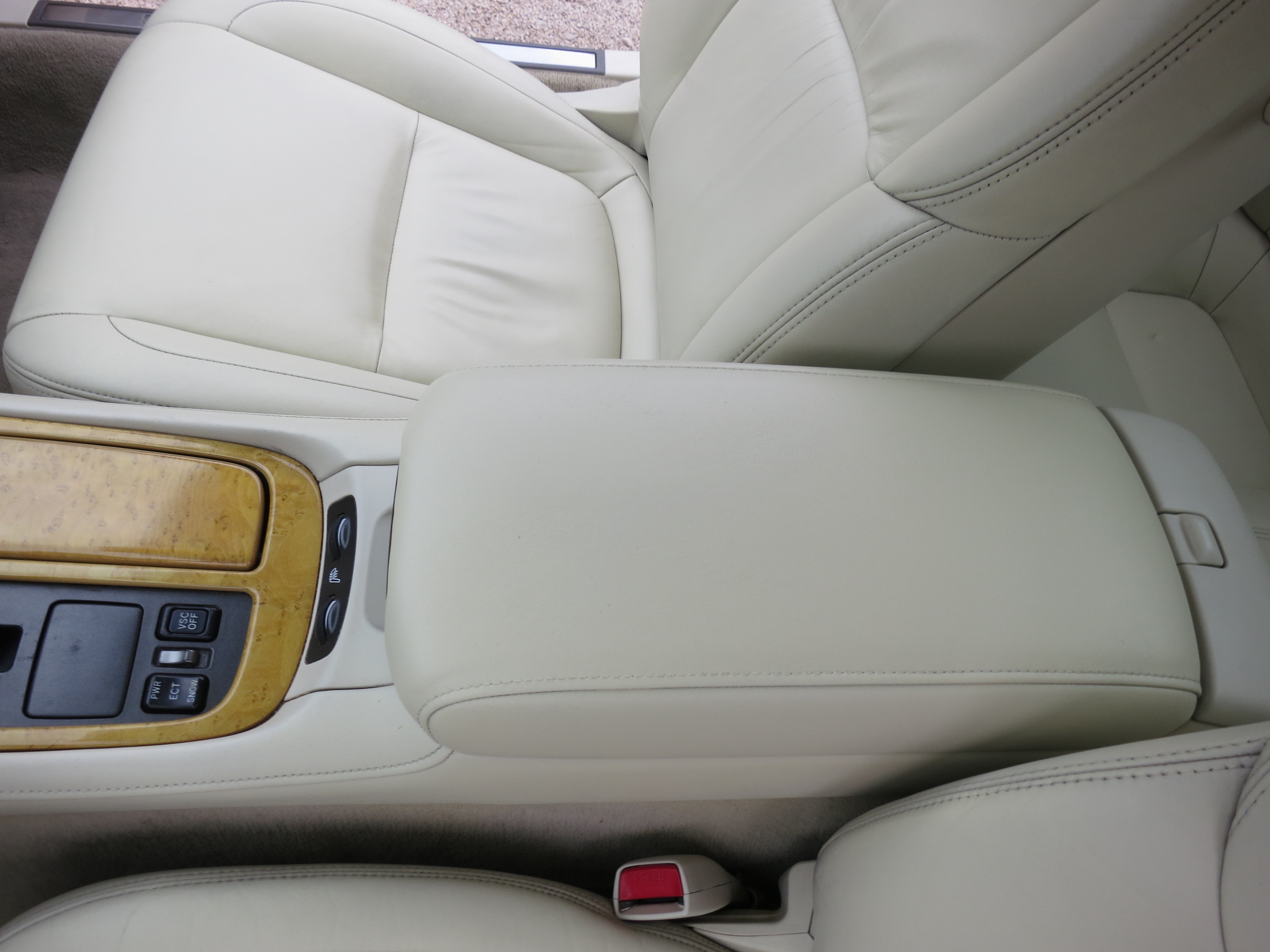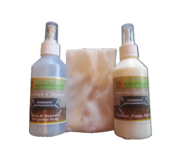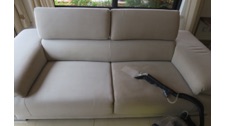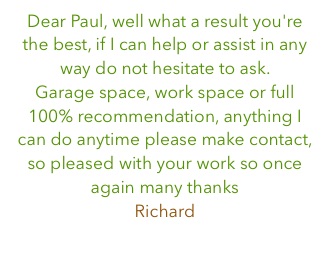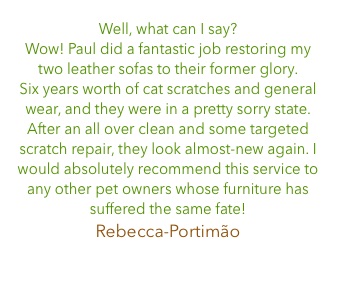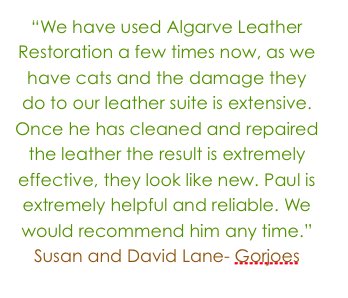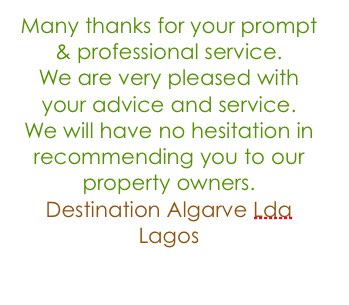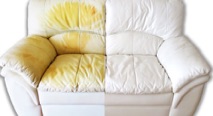 Making your leather look great & live longer

Our Italian leather 3+2 sofas were an expensive purchase, but 8 years later were showing their age. Paul's work made marks from our cats claws, dirty arm rests, dark streaks and large faded areas all disappear, to be restored to a fabulous finish. Our furniture really does look like new again and we are delighted.
Paul arrived on time, advised us to remove or cover our lounge furniture while he worked on our sofas. He was quick and efficient and worth every euro. We shall have him back when needed in the future and I can heartily recommend him to you all.
Suzanne le Poidevin, Olhao, Eastern Algarve
Dear Paul, well what a result you're the best, if I can help or assist in any way do not hesitate to ask.  Garage space, work space or full 100% recommendation, anything I can do anytime please make contact, so pleased
with your work so once again many thanks
Richard
Well, what can I say? Wow! Paul did a fantastic job restoring my two leather sofas to their former glory. Six years worth of cat scratches and general wear, and they were in a pretty sorry state. After an all over clean and some targeted scratch repair, they look almost-new again. I would absolutely recommend this service to any other pet owners whose furniture has suffered the same fate!
Rebecca-Portimão
Paul, you came to the rescue 2 years ago just on time (after upholstering didn't work) to clean two armchairs before guests arrived the next day! Then when we asked your advice about the protection kits for our leather sofa, you not only brought it round to us but gave us excellent advise and a demonstration on how to use it! Thank you so much - we'll recommend you to anyone needing your services.
Pamela-Carvoeiro
Hi Paul. Thanks for sorting my car today you did a fantastic job, i am more than happy with it and would be delighted to recommend you to anyone who needs your services, Anyway thanks again."
Mr Dempsy
Many thanks for your prompt & professional service. We are very pleased with your advice and service.
We will have no hesitation in recommending you to our property owners.
Destination Algarve Lda
Lagos
I had a very old but still good lounge suit in cream. It was large with numerous folding cushion areas. I decided it would look better in a strong chocolate brown and I had nothing to lose because if Paul could not pull it off it was destined for the recycle garage anyway. Paul spent an entire day, 8 hours or more working on this project and at the end of it we have the most fabulous suit that could pass for new. I was not only pleased with the result but blown away by the professionalism that Paul brought to the job. Thank you.
Avril Thomas, Tavira
"Algarve leather Restoration brings a whole new meaning to invisible repairs. Excellent service, fast and reliable"
John
"I am always delighted with the results of the suite cleaning and repairs. The suite comes up like new after every clean. Having been a customer for a number of years now, I would have no hesitation in recommending this service."
Mira Robinson
"We have used Algarve Leather Restoration a few times now, as we have cats and the damage they do to our leather suite is extensive. Once he has cleaned and repaired the leather the result is extremely effective, they look like new. Paul is extremely helpful and reliable. We would recommend him any time."
Susan and David Lane- Gorjoes
"We were thinking of replacing our settees because suntan lotion had caused them to stain, but we thought we would try Algarve leather restoration and the results were unbelievable, the settees are like new. We are so pleased and recommend you try."
Jan and Richard Etheridge - Vilamoura
"Absolutely brilliant change! Good guy! Nice and clean furniture and working conditions."
Bill and Lisa Wilson- Armacao do Pera
Paul was an exhibitor at our 2013 Better Living in Portugal exhibition (BLiP) in October and displayed several examples of his astonishing work at the event. His attention to detail and craftsmanship are clearly of an extremely high standard and the results are very impressive.
Michael Reeve (CEO - AFPOP)
Algarve
"This guy's work is amazing! He has done several minor restorations on my leather furniture and cleaned my brown leather suite and cream leather recliner chair. I have also seen work he has completed on the leather furniture of other people I know. His work is always to a high standard and he is a pleasant worker to have around whilst he does the job. I have also seen him repair to an incredible standard a leather jacket which had a triangular tear in it as well as colour damage. After completing his work I couldn't tell where the damage had been! Very highly recommended!"
Sue Walker
"Paul, I just want to say that you have done a fantastic job on our suite. You have provided a fast and efficient service and I will certainly recommend you to family and friends. Many many thanks."
Jim and Gwynne Lever
"Paul, Excellent quality, durable repairs to the standard we need here at a Bentley dealership."
Kim @ Bentley Autos, Ribble Valley
"Paul once again you have carried out another superb clean of our leather suite. You are very prompt, reliable and pleasant and of course we will have you back in the future"
Doreen and Mike Jarmar
"Mobile Leather Restoration have just completed the restoring of my leather suite after the failed attempt of another company and has made an excellent job. I will be recommending him to all my friends and family."
C Ferguson
Paul was tasked to clean our two FABRIC sofas and did a good job, we were very pleased, however we asked him to scotch guard them as added protection and to be honest the spray that he put on did not work. Before they were cleaned any liquid would sit on top of the sofas, however when cleaned and " scotch guarded" the liquids just soak straight in... We don't believe that this Scotch Guarding was any good. Just being honest and we have recommended Paul to our friends for sofa cleaning, however this Scotch Guarding need a looked at for future work.
Brian Burton
Jardins de Pera. Pera, Algarve
Paul, We very recently had our 3 seater and 2 seater sofas, an armchair and footstool cleaned by you and can´t believe the difference! Our furniture looks brand new again. When we saw the pictures on the website we were very impressed but really didn´t think the results could be that good. Well we decided to take a chance and can very honestly say the results are that good! We were considering buying new furniture so you have saved us a fortune. We are happily recommending you to all our friends and business clients. Thank you.
Gill Morris ,Aljezur
Hello again Paul.
As mentioned on the phone, delighted with the job done on my leather sofa beds, which are now almost like new again. The settees are very good quality but were looking very much worse for wear mainly as a result of sun tan oil. I will be in touch for another restoration when they start to look tired again, thank you.
Michael Booth
Alto do Moinho, Albufeira
Excellent job repairing my dog chewed hot tub leather cover. on time, got on with the job and would recommend him in the future. thank Paul.
Whitehouse, vila-sol
Brilliant repair to car leather due to cat scratches !
Michelle Wainwright, Agostos